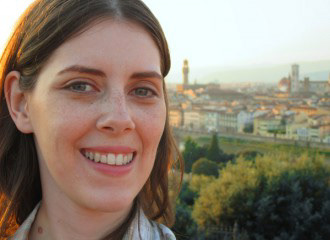 Hi there! My name is Kirsten Sihlanick and I am a graphic designer.
Phew! I'm glad I got that off my chest! "About" pages, while informative and handy, always make me feel like I'm either writing about someone else or I'm attending a self-help session.
Anyway, I have been designing for over 10 years, most of which was spent as an in-house designer for the American Society of Clinical Oncology, a nonprofit for medical professionals in the field of oncology. My work there touched a wide range of projects, from print booklets and programs, ads, meeting signage, annual reports, member magazine, invitations, postcards, and flyers to webpage layouts, web banners/ads, web graphics and murals, PowerPoint presentations, interactive PDFs, and photo touch-ups.
Basically a little of everything. A sort of renaissance woman, if you will.
Tim Gunn's saying of "make it work" is my motto for design.
Trying to make things fit within space and budget limits is thrilling to me, and photo touch-up is a particular favorite.
I tend to be a technical problem-solver when it comes to computer and software issues.
I'm currently seeking to share my talent with another company or organization. If you have a project for which you believe I would be a good fit, or you're looking to add a designer to your team, please go to the Contact page and say "hi."